---

Summit of Success Chapter
Chatham / New Providence NJ Area
Painting
S-L Painting
George Spangler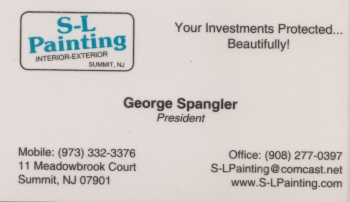 S-L Painting
11 Meadowbrook Ct
Summit, NJ 07901
S-L Painting is an interior and exterior painter based in Summit, New Jersey. George Spangler, the president has been a Summit resident since 1958. S-L Painting brings Value, Integrity, Service and superior craftsmanship to each job. We will help you protect your investments... beautifully! We are the right choice and We'll prove it over and over. Below are some of the services we offer:

EXTERIOR:

Painting & Stains, Natural Finishes & Preservatives, Deck Washing, Mildew Control, Wood Shingle Roof Treatments, Historical Restorations & Custom Colors, Carpentry, Shutters, HEPA Vaccum Sanding.

INTERIOR:

Painting & Decorating, Wallpaper & Wallcoverings, Plaster & Sheetrock Repairs, Custom Staining, Carpentry & Repairs, Corporate, Commercial, Water Damage Repair.
Everyone in the family was very happy at the way this work turned out, and it was done promptly - Thank You very much.