---

Summit of Success Chapter
Chatham, NJ
Senior Relocation Specialist
TLC Senior Relocation Specialists, LLC
Anne Bangs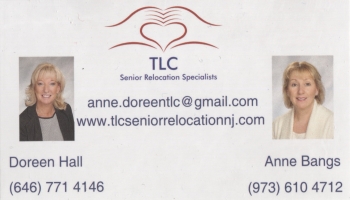 TLC Senior Relocation Specialists, LLC
10 Geoffrey Ct
Chatham, NJ 07928
Anne Bangs is a Senior Move Manager for her company TLC Senior Relocation Specialists LLC.
TLC help families downsize and move to independent or assisted living facilities. We assist with all aspects of the move. We measure furniture and make a floor plan for the new space. We help sort through items and determine what will be kept, donated or sold. TLC coordinate donation and junk pick up and can connect you with appraisers and estate sale professionals if needed. We help the client pack their belongings, organize a mover, then unpack them on moving day.
Most of our clients have lived in their homes for decades so this process is overwhelming, we support and guide our clients through this transition. We listen to concerns, honor memories and respect our client's decisions. We find solutions to alleviate the stress by handling the entire relocation process.
Complete Senior Move Management
Create a Floor Plan
Relocation to a place of your choice
Organizing and decluttering
Packing and Unpacking
Scheduling and supervision of Movers
Disposal of unwanted items
TLC is a member of NASMM, the National Association of Senior Move Managers NASMM members are experienced professionals, bound by a pledge of integrity, committed to safety and ethics, and dedicated to continuing professional development.
We will guide you every step of the way