Summit of Success Chapter
Short Hills / Chatham / New Providence / Berkeley Heights NJ Area
Plumber
Real McCoy Plumbing & Water Conditioning
Mike McCoy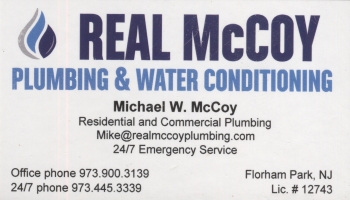 Real McCoy Plumbing & Water Conditioning
Florham Park, NJ
---
Reviews:
---
Real McCoy Plumbing & Water Conditioning is a family owned and operated business proudly serving the Northern New Jersey area since 2009. With over 20 years of experience in residential, commercial and industrial plumbing and water conditioning, owner Mike McCoy is a master in his trade, staying on the cutting edge of technology to provide clients with efficient and effective solutions.
Our Services Include:
Plumbing
Heating - Hot Water & Steam
Water Heaters
Water Conditioning - Water Softening - Water Filters
and more...