---

Summit of Success Chapter
Chatham, NJ
Auto & Home Insurance
KRA Insurance
Rich Jackle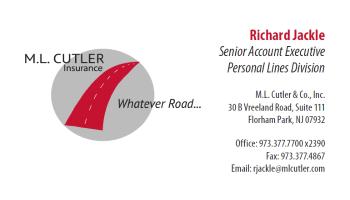 KRA Insurance
871 Mountain Ave
PO Box 266
Springfield, NJ 07081
KRA Insurance Agency was founded in Springfield in 1950. The agency is organized into departments,each managed by a principal of the firm,and staffed to service all the needs of the clients.
The Personal Lines Department will analyze and service all personal insurance needs. More than ten different insurance carriers are represented to match up the appropriate company with the needs of the client.
Among the areas handled are:
Homeowners Insurance
Renters/Tenants Insurance
Automobile Insurance
Condominium Unit Owners
Umbrella Liability
Flood Insurance
Jewelry & Fine Arts Coverage
Boats & Recreational Vehicles
Rich Jackle has been with KRA since 1992,and has been in the Personal insurance field since 1981. A "no-obligation" review of all personal insurance needs is always available.