Summit of Success Chapter
Short Hills / Chatham / New Providence / Berkeley Heights NJ Area
Certified Public Accountant
Richards Group P.C.
Skip Richards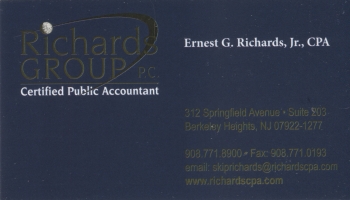 Richards Group P.C.
312 Springfield Ave
Suite 203
Berkeley Heights, NJ 07922
Over 35 year's experience in accounting, tax consulting services and preparation of small business, individual, fiduciary, estate, trust and not for profit tax returns. Peer reviewed under the AICPA for audited, reviewed and compiled financial statements.
"We help solve your tax, accounting and financial problems"
Quality • Service • Ethics
At Richards Group, PC, CPA's, these are more than just the latest customer service buzzwords. They're a commitment—the guiding principles our team members follow each and every day as we work with you toward a successful future.
When you do business with us, you'll always have our strongest commitment to:
Provide you with quality work in a timely manner, no matter how large or small the task.


Offer you a level of service that exceeds your expectations, whether you're looking for a copy of a single tax return or a complete audit of your business.


Value the trust you place in us, with our promise that we'll work hard to earn your trust and your business every single day.
We hope you'll take some time to browse through our site. You'll find a lot of useful information here: a list of the services we offer, contact information, financial calculators, specially-selected newsletter articles and much more.
Please give us a call or drop us an email for more information about our firm and the services we offer, or to make suggestions for what you'd like to see on our website. We look forward to talking with you soon!
Our office hours are:
9:00 a.m. - 6:00 p.m. Monday – Friday
9:00 a.m. - 1:00 p.m. Saturday (during tax season only)