Summit of Success Chapter
Chatham / New Providence / Berkeley Heights NJ Area
Movers
Main Street Movers, Inc.
Karen Mantzouranis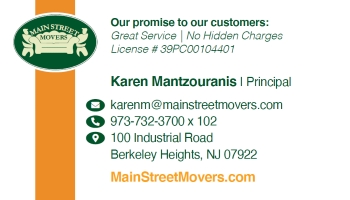 Main Street Movers, Inc.
100 Industrial Road
Suite A
Berkeley Heights, NJ 07922
MAIN STREET MOVERS, INC.
is a woman-owned, family run company with over 38 years of experience in providing moving & warehouse services to the residential, governmental & corporate community on a local, national & international level. Our experience ranges from small household moves to dismantling and moving large data centers, schools, offices, etc. Our commitment to excellence and our flexibility in meeting the needs of our clients consistently makes us the partner of choice.
Main Street Movers, Inc., has the experience, licenses, insurance, space, equipment and professional personnel required to successfully deliver on our promise. We are among an elite few who carry the "Circle of Excellence" designation given by the New Jersey Movers and Warehousemen Association.
Our services include:
Household Goods Packing & Wrapping
In home moving
Fine Arts and Antiques Packaging and Crating
Piano Moving
Transporting Automobiles and other Motorized Vehicles
White glove maid service after a move
Storage Solutions – Household; Record; Commercial
Disposal of unwanted property during a move
Categorization and Inventory management
Our mission statement and guiding principle is that our clients deserve outstanding service and excellence – every move, every day.