Summit of Success Chapter
Chatham / New Providence NJ Area
Travel Advisor
Cruise Planners - Land and Cruise Experts
Nish Verma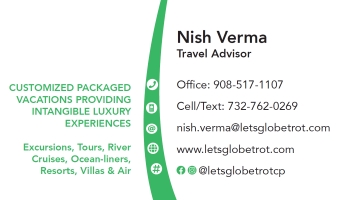 Cruise Planners - Land and Cruise Experts
Berkeley Heights, NJ 07922
Travel has been a passion for me and my wife, Emma, for decades. We still get that rush when we set out globetrotting, often off-the-beaten path, and including trips with our Lhasa Apso. After working for more than 16 years in the financial services industry, this love for travel made me a Travel Advisor,
inspiring individuals, couples and families experience those unique memorable moments.
Imagine:
the streets of palatial old-town Gamla Stan in Stockholm, lavish Italian landscapes and Spanish wines, romantic Paris and upscale French Riviera, majestic Norwegian Fjords, charming Alaskan cruises, sandy Caribbean beaches and wonders of Central & South America; and throw in Budapest and the Danube, Viennese crystals and coffee, beers and wines in Prague, floating market in Thailand, the Cambodian temples, or simply incredible India – in short,
The World.
From Luxury Travels, Exotic Locations, River Cruises, Excursions, All-Inclusive Resorts, Packaged Vacations, Weddings & Honeymoon, it is
personalized to your taste, style and budget.
Starting with initial consultations, gathering details on your travel needs and experiences, to outlining, planning and customizing your trips that is perfect for you,
I will be with you
, all-along.
Even on weekends and holidays, at your convenience.
And,
at no charge
to you.
Connect with me via email, phone or social media; or let's meet in-person.
While the internet has plethora of information and travel options, the sheer volume and site-searches can be taxing and overwhelming. Why not I take the pain and trouble to put together an
experience of a lifetime
with the
best deals
so that you can relax? Personalized Service and Customized Planning is not offered online, so why waste time on those sites.
Let me inspire you …