Summit of Success Chapter
Short Hills / Chatham / New Providence / Berkeley Heights NJ Area
Attorney - Real Estate
The Law Offices of Anthony Di Maggio, LLC
Anthony Di Maggio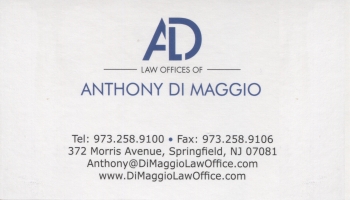 The Law Offices of Anthony Di Maggio, LLC
372 Morris Avenue
Springfield, NJ 07081
The Law Offices of Anthony Di Maggio, LLC is dedicated to representing both commercial and residential clients in all types of real estate transactions, ranging from a first-time home buyer to a sophisticated real estate investor. Our real estate department, led by Anthony Di Maggio, serves our clients throughout all of northern and central New Jersey.

As you may know, purchasing and/or selling a home can be a momentous occasion and the most important investment of a lifetime. From your initial consultation to the closing of the transaction, let us help you avoid the potential pitfalls that can cost you time and money. In today's complex real estate market, you need an experienced attorney who is knowledgeable about recent industry trends, environmental issues and changes in the financial market to achieve a smooth, timely closing.

We serve as the central point of communication for all of the parties including the real estate agents, lender, title insurance agency and other party's attorney. Since the contract is a legal document that binds the rights and obligations of each party, we provide you with a full understanding of your responsibilities and the legal effects of your decisions in each and every step of the transaction. In the event a transaction becomes problematic, an experienced attorney can offer you sound legal advice to help avoid future legal issues. The involvement of a knowledgeable attorney will ensure that your personal and legal interests are well protected.