Summit of Success Chapter
Short Hills / Chatham / New Providence / Berkeley Heights NJ Area
Attorney - Municipal Court / DWI / Motor Vehicle
Brady & Correale, L.L.P.
Robert D. Correale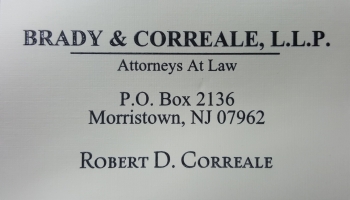 Brady & Correale, L.L.P.
PO Box 2136
Morristown, NJ 07962
Mr. Correale's experience in criminal and municipal court matters is varied. Among the types of cases he has handled on behalf of defendants are:
traffic matters
driving while intoxicated (DWI)
driver license suspensions
game law violations
theft
assault
trespass
controlled dangerous substances (drugs)
expungements
pre-charge investigations.
Mr. Correale is a former Somerset County Assistant Prosecutor and was the Municipal Prosecutor for the Township of Jefferson from 1994 to 1998. In 2015, he was appointed as Special Municipal Prosecutor for the Township of Frelinghuysen. He has also served as the Alternate Municipal Prosecutor in four municipalities in Sussex County and as a Municipal Public Defender for five municipalities in Morris and Sussex Counties. In 2016, Mr. Correale was appointed Secretary of the Morris County Bar Association Municipal Court Committee.