Summit of Success Chapter
Short Hills / Chatham / New Providence / Berkeley Heights NJ Area
Attorney - Tax and Estate Planning
Jardim, Meisner & Susser, P.C.
Carey Gage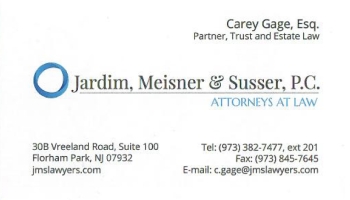 Jardim, Meisner & Susser, P.C.
30B Vreelend Rd
Suite 100
Florham Park, NJ 07932
Mr. Gage has represented many closely held businesses, dealing with the problems of:
The orderly transition of management upon the death of unrelated partners or partners who are family members, including establishing a workable method of transferring control of the business, minimizing estate and income tax consequences involved in that transfer and estimating, and assuring a source for payment of, estate taxes.


Minimizing state and federal income, sales, payroll, estate and other types of taxes through the creative use of profit sharing and pension plans, wills, trusts and other vehicles


Estate planning and administration


Acquisitions and sales of businesses


1031 transactions and reorganizations under IRC Section 368(a)


Mr. Gage also has extensive experience in representing individuals and businesses in tax related matters, including state and federal tax litigation, audits, offers in compromise and other tax workouts.