Summit of Success Chapter
Chatham / New Providence NJ Area
Business & Career Coaching
Epicycle Group
Sasha McDowell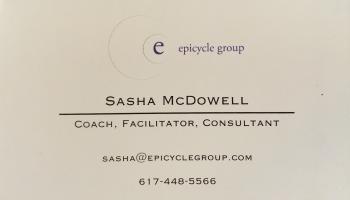 Epicycle Group
South Orange, NJ
Sasha is the founder of
Epicycle Group
, an organization that helps parents and women leaders succeed at work and at home.
Through Epicycle, Sasha offers three services:
Coaching for leaders, entrepreneurs, and career pivoters and job seekers
Mastermind groups for entrepreneurs
Organizational training & consulting to build more effective teams, retain women leaders and create family- friendly work cultures
Sasha's coaching, group facilitation, and consulting work builds on deep experience managing and developing teams, as well as mentoring and counseling people from diverse backgrounds. She has worked in a variety of settings across corporations, non-profits, and government organizations, and specializes in coaching and training:
Managers developing their leadership skills, teams, and organizational cultures
Women leaders
Parents committed to work-life integration
Employee Resource Groups
Sasha helps her clients to grow as leaders and to create thriving teams by creating new perspectives, developing skills, and sparking insights that align with organizational results.
Successful Careers. Thriving Families.