---

Summit of Success Chapter
Chatham, NJ
IT Consulting
Vantech Computer Services
Michael Burt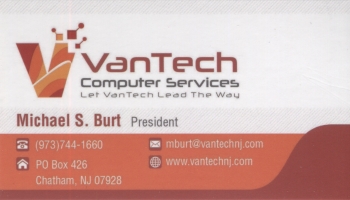 Vantech Computer Services
175 N Main Street
Box 3
Wharton, NJ 07885
Are you looking for effective, reliable managed IT services for business?
Do you want a team of IT professionals who value you as a client and have many years of experience in the IT services industry?
Sound like just what you are looking for?
Then choose VanTech Computer Services. We're experienced professionals who use VanTech's advanced technical systems to make your business more productive and your life much easier and more hassle-free. From our hosted exchange email, cloud backup and file sharing and syncing, to our remote control, monitoring and remote desktop support, we handle any IT project you can think of. Contact us today and experience the difference quality and service can make for you in your business and your life.
Our services include:
Managed IT Services
Preventive IT Maintenance
Server Administration
IT Project Planning
Help Desk and Support Services
Data Center Services
Networking
Hosted Exchange Email
Custom Backup Solutions
Virtual Hardware Solutions
IT Security Consulting