Summit of Success Chapter
Short Hills / Chatham / New Providence / Berkeley Heights NJ Area
Business Law
Schenck, Price, Smith & King LLP
David B. Bailen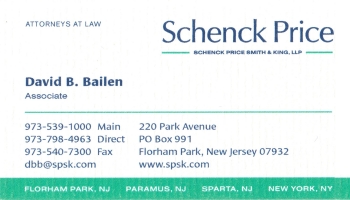 Schenck, Price, Smith & King LLP
220 Park Ave
Florham Park, NJ 07932
David is an associate attorney in the Corporate and Business Law and Health Care Law Practice Groups at Schenck Price Smith & King LLP, an +85-attorney law firm based in Florham Park, with offices in Paramus, Sparta and New York City. Schenck Price has been providing a full range of legal services to businesses and individuals since its founding more than 100 years ago.
Personally, David serves a range of clients from start-ups to large corporations (including those in the healthcare sector), working on a wide variety of legal issues. Some examples of the services David regularly provides to his clients include:


Drafting and negotiating vendor contracts regarding SaaS, purchasing and supply, pharmaceuticals, healthcare services, payment processing, licensing, and many more.
Corporate and non-corporate business formation (e.g., LLC, Corporation, S-Corp).
Evaluation, counseling, and training on risk management and compliance involving state and federal privacy laws (e.g., HIPAA), Stark Law, Anti-Kickback, and DEA regulation.
Counseling and negotiating on behalf of both employees and management.
Merger & acquisition-related tasks for deals ranging in value.
Counseling clients through licensing and regulatory processes and investigations.
Drafting internal policies regarding a wide range of compliance and labor-related issues.
Generating regulatorily compliant and required forms for healthcare entities.
Appealing adverse decisions from insurance providers.
David is committed to furthering the excellent reputation that Schenck Price has built over the last century, priding himself on treating his clients' needs with the urgency and attention they deserve. Take a step towards strengthening your business or practice by contacting David today.