Summit of Success Chapter
Chatham / New Providence NJ Area
Title Insurance
True Value Title LLC
Robert Giardina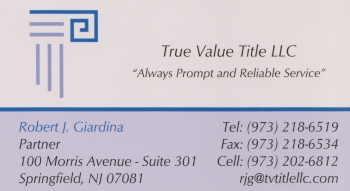 True Value Title LLC
100 Morris Ave
Suite 301
Springfield, NJ 07081
True Value Title, LLC. can provide to you and your clients the following services:


Ordering and receiving all necessary County, Municipal and Upper Court searches online via the internet and other networking resources – often the same day;

Preparing and distributing an accurate and easy to comprehend title insurance commitment in a timely matter;

Electronic delivery of commitments, endorsements, etc.;

Ordering flood certification, where required;

Ordering property survey with or without corner markers;

Preparing and filing the Notice(s) of Settlement;

Issuance of title policy after receipt of recorded documents from courthouse;

Obtain payoff or release statements for any mortgages or judgments, i.e. child support/DMV judgments, and obtain appropriate Warrants of Satisfaction.

Contact condominium, townhouse or homeowner associations for Status of Dues letter and ordering condominium insurance certificate.

Record deed, mortgage and any additional required instruments as requested.

Track canceled mortgages and/or liens, to ensure cancellation of record.

We have the experience, knowledge and resources to handle even the most complicated real estate transaction in the State of New Jersey or Florida.