Summit of Success Chapter
Chatham / New Providence NJ Area
Residential Mortgage Lending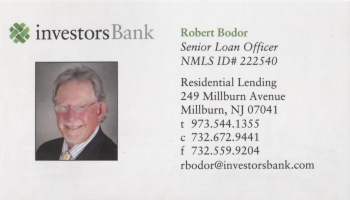 Investors Bank
249 Millburn Avenue
Millburn, NJ 07041
---
Reviews:
---
DID YOU KNOW…
One of the ways Investors Savings Bank can help FIRST TIME BUYERS realize the dream of home ownership is to enroll in our "FIRST HOME CLUB." We, the Bank, will match $4.00 for every $1.00 they save into a dedicated savings account over a 10 month period. We will match up to a maximum of $7,500.00!!!!! This unique offering could be the KEY to unlocking the door to their new dream home!
WHO DO YOU KNOW…
that could benefit from our DOWN PAYMENT ASSISTANCE PROGRAM?
FHA approved Specialist
Equal Housing Lender
ISB Mortgage is the home for all of your HOME FINANCING needs.
GREAT RATES!
GREAT SERVICE!
I've been providing "Extraordinary
Service" to my customers for over 30
years. Please allow me to continue to
serve your friends and associates.